Time Trials
EMRA's North East Time Attack Series give motorsport enthusiasts a place to push their cars to the limit and compete in a safe, controlled environment.
Time Attack events are held on full-size race tracks across the Northeast throughout the season. Drivers compete against the clock and each other, battling for their fastest time of the day. At the end of the day the results are compiled and broken down by vehicle class. Awards are given at the end of each day and points go towards the season championship.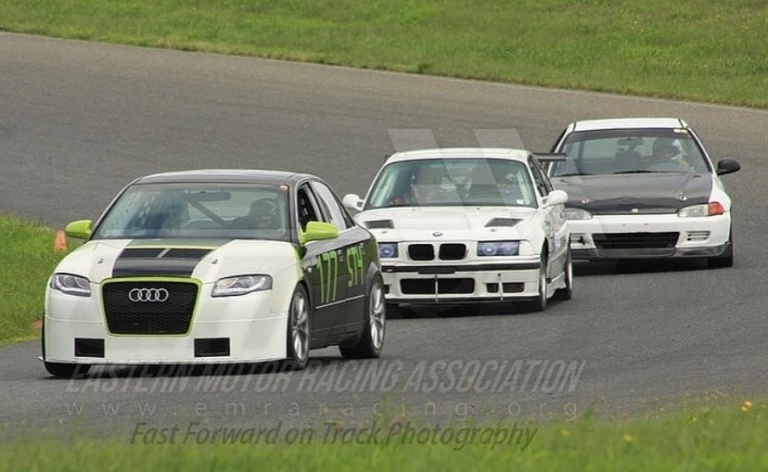 EMRA welcomes new and experienced drivers to all of our events. Don't worry if you don't think your car is "fast," Time Attack is a competition of driver skill. A skilled driver has a chance of winning no matter what car he/she drives.
For first timers, EMRA hosts a Time Attack and High Performance Driving Education school at each event. Students receive both classroom and in-car instruction from one of EMRA's many experienced instructors. We will teach you everything you need to be safe and fast, from proper driving technique and car control, to track awareness and vehicle dynamics. 
Once you successfully complete our school, you will receive your Time Trial license and be able to compete with your fellow Time Attackers!
If you have had prior track experience with an accredited sanctioning organization, you can start competing right away.
How are Time Attack competitions run?
Time Attack is broken down into three groups;
Red and Student – for Novices, and those just starting out or learning a new track.
White – for those with experience who still have room to improve
Blue – for our most experienced drivers
Every group receives an allotted amount of time on track. Each day is broken down into 3-6 sessions of 15 to 30 minutes. 
In Time Attack passing is allowed, but only in specified passing zones with a Point-By. Passing zone size and locations vary from track to track.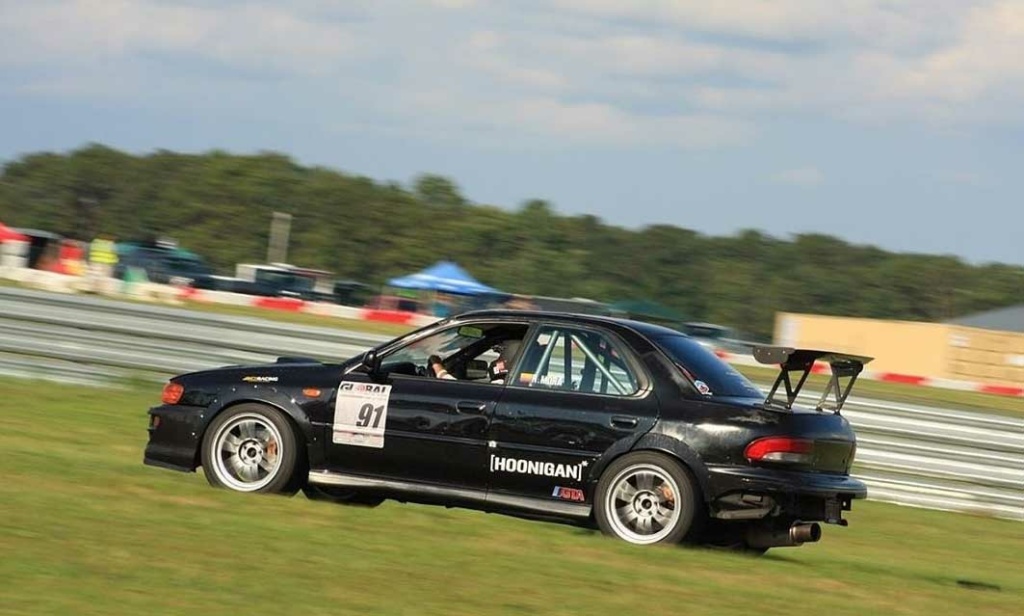 Time Attack is timed using an electronic transponder system which register every lap around the track. If you have a transponder all you need to do is provide EMRA with your transponder number. EMRA has transponders available for rent through the event registration page. At the end of the day, all times are compiled into a list and broken down by class for our Trophy and Beverage ceremony. All points go towards the season championship. 
With EMRA's Time Trial school and our team of instructors, even drivers who have never been on a race track can enjoy a great day of time trialing.
As with all forms of motorsports, there is always a small element of risk involved in high performance driving. In order to minimize that risk, EMRA Time Trials are held under tightly controlled conditions with limited passing and with a zero tolerance policy on risky or dangerous behavior. We strive to keep everyone and their vehicles safe.
For those of you who want that extra peace of mind, Lockton Insurance offers track day insurance at all EMRA events. Visit the Lockton Motorsports website to find out more and to apply online.
Mailing List
Sign up for Updates
Sign up for our mailing list for news, updates, and announcements